<! GK AND POT LUCK 02 !>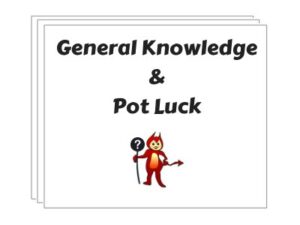 GK and Pot Luck 02

Fifty Questions – Five Rounds
Five ready-made rounds of quality quiz questions, each with a variety of subjects.
Sample Questions:
Three questions featured in this quiz pack;
01. In chess, which is the only piece which must remain on its own coloured square?
Bishop
02. Which famous sportsperson is mentioned in the lyrics of the Simon and Garfunkel song 'Mrs Robinson'?
Joe DiMaggio
03. In the title of a Shakespeare play, how are Mrs. Ford and Mrs. Page otherwise known?
The Merry Wives of Windsor
Quiz packs are supplied in a zip file with a 3 page PDF file (ideal for printing) and a copy in Word format (making it easy to make changes if needed).
Note: The rounds in this pack appear in 50 Question Quiz Packs 229, 230, 231