You Are Here: Home » Ready-Made Quiz Packs » Latest Quiz
Ready-Made Weekly Quiz – 23/02/2021
A great value Quiz Pack that includes everything you need to run a fun pub-style quiz.
• 40 Quality Quiz Questions
• Two-Page Questions and Answers
• Questions and Answers Separately (great if you want to have a go yourself!)
• Team Answer Sheet
• Quizmasters Score Sheet
• Files supplied in both PDF and Word
This Latest Quiz includes topical and news questions, you can browse a range of any-time use Quiz Packs here and if you're new to QuizDemon click here to instantly download a Free 40 Question Sample Quiz.
Quiz Pack 432

Forty Questions Over Four Rounds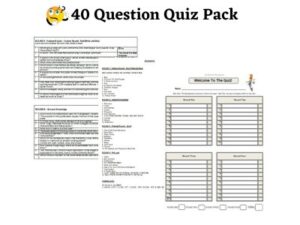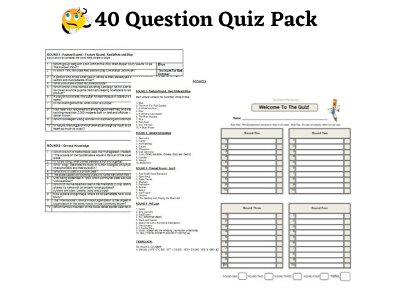 Round 1: Link-a-Letter
• The initial letters of each answer, in order, will spell the name of a well-known actor – Clues are provided so you can make this round easier by reading out some or all of these… On the other hand you can make the round a little harder by simply reading out the questions in a random order to create an 'Anagram Round'
Round 2: General Knowledge
Round 3: Sport
• A great mix of sports questions including how long do golfers have to find a ball before it's deemed lost, what is the total running distance of the four track events in an Olympic Decathlon and which former Premier League winners were bought by Indian owners in 2010?
Round 4: Pot Luck
Includes a tiebreaker relevant to a question contained in the quiz
This Quiz Pack is supplied in a zip folder containing everything you need to run your quiz
Quick View – 40 Question Quiz Contents and Files
* Latest Quiz – Includes Topical and in-the-news questions which will be replaced after next week's quiz is uploaded – registered users can re-download this pack to see the replacements
<! FORTY Question Download Details and Content!>

<! *****INSERT FOUR OTHER RANDOM DOWNLOADS***** !>
More Forty Question Quiz Packs
Recent Quiz Packs
Ready-Made Quiz Packs and Handouts
Question Round Packs