QuizDemon Weekly Pub Quiz – Latest Quiz

*Weekly Quiz 474 – 18/01/2022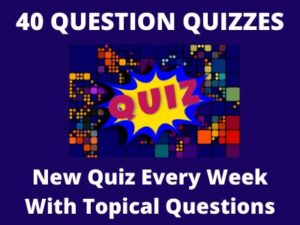 Save yourself hours of preparation time with this great value pack that includes everything you need to run a Fun Pub Quiz – A variety of 40 questions, 4 rounds, dedicated Team Answer Sheets, Quizmasters Score Sheet and a selection of Topical and News questions.
There's also a great range of any-time use packs, including 50 Question Quizzes and Handout Sheets,, which combined form a range of popular Complete Quiz Packs.
All Quiz Packs are put together with the aim of providing fun, interesting and entertaining questions. If this is your first visit you can read more about QuizDemon and check out the Free Downloads Page to see the quality for yourself.
Subscribe to the Weekly Quiz – See Details
Weekly Pub Quiz 474

*New 18/01/2022
Ready Made 40 Question Quiz
Includes Everything You Need To Run A Fun Pub Quiz!
• Two-Page Questions and Answers
• Questions and Answers Separately (great if you want to have a go yourself!)
• Team Answer Sheet
• Quizmasters Score Sheet
This week's topical and news questions include…
• In the news after it was subject to a two-year price freeze, what is the current annual cost of a TV licence?
• Following complaints by disability campaigners, what have Marks & Spencer changed the name of their Midget Gems to?
• For a point each, what are the reported names of the two plans put in place by Boris Johnson – firstly to deflect blame from himself in wake of the 'party-gate' scandal, and secondly to announce numerous populist policies to win back the support of voters?
You also get alternative questions – so you'll be able to tailor the questions to suit your own quiz. This Quiz has a Feature, GK, Themed and Pot Luck Round.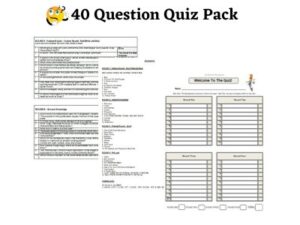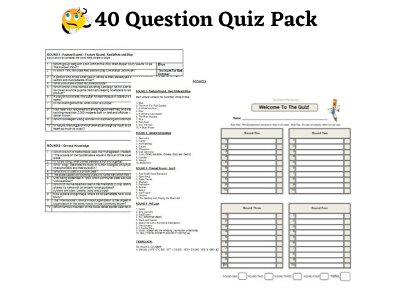 Four Rounds of 10 Questions
Round 1: All About Animals
• Ten questions revolving around animals
Round 2: General Knowledge
• A selection of ten quality General Knowledge quiz questions
Round 3: Four Letter Words
• All questions lead to a one or two word answer, with all words containing just four letters
Round 4: Pot Luck• Finish off your quiz with a great range of Pot Luck questions
Sample Questions
• Two questions from Round 1 (All About Animals) and two from Round 4 (Pot Luck)
1. Which type of animal has a body part that contains over 40,000 muscles, but no bones?
Elephant (Its Trunk)
2. What type of animated creature was used to portray the role of 'Friar Tuck' in the 1973 Disney animation 'Robin Hood'?
Badger
3. What might your hobby be if you followed pattern instructions including half double, double double and triple treble?
Crochet
4. Named after an English scientist, engineer and inventor, what name is given to a shot in Golf that bounces on the surface of a water hazard?
Barnes Wallis
Includes a tiebreaker relevant to a question contained in the quiz
* Latest Quiz – Includes Topical/News questions; this pack has an extra file giving you substitute, any-time use questions, to use if you wish
This Quiz Pack is supplied in a zip folder containing everything you need to run your quiz
Quick View – 40 Question Quiz Contents and Files
<! FORTY Question Download Details and Content!>

<! *****INSERT ADD A HANDOUT SHEET***** !>
Add a Quality Handout to your Quiz
Complete Quiz | 40 Question Quiz | 50 Question Quiz | Handout Sheets | Question Rounds