Handout 263 – Quiz Mix 04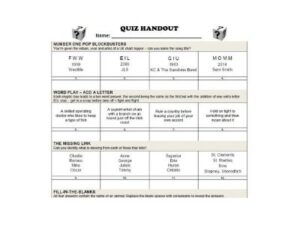 A 20 question pub quiz Handout with a mix of 5 subjects, each with 4 questions
Subjects In This Handout:
Number One Pop Blockbusters
The aim here is to name a UK chart-topper when given the song title initials along with the year and artist name
Word Play – Add-a-Letter
Each cryptic clue leads to a two-word answer, with the second being the same as the first but with the addition of one extra letter
E.G. Clue – get in a scrap before take off. Answer = Fight and Flight
The Missing Link
Four lists of connecting items where the aim is to identify what is missing from each list
Fill-in-the-Blanks
The vowels are in place – use consonants to fill in the blank spaces, with all four answers containing the name of an animal
Game and Quiz Show Rounds
Can your quizzers name the TV game or quiz show when given a lists of rounds featured in the series?
This Handout is supplied in a zip file containing two files, one with the answers and a copy without. Files are supplied in both PDF (ideal for printing) and word format (making it easy to make changes if needed.)