<! JOKER ROUND PACK 02 !>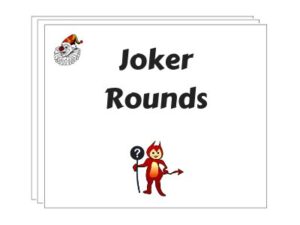 Joker Rounds Pack 02

Fifty Questions – Five Rounds
Question rounds based on just one subject, ideal to use in Quizzes where teams are given the subject rounds and are able to play a 'joker', doubling their points for that round.
The rounds in this pack are:
Round 01. Food and Drink
Round 02. Toys and Games
Round 03. Sport
Round 04. TV Comedy
Round 05. Around The UK
Sample Questions:
One question from each round;
01. Food and Drink; Popular as a British summertime drink, what alcohol is Pimm's No 1 based on?
Gin
02. Toys and Games; Which adult board game includes a horn to honk for the rudest answers and advises players that 'It's all in the mind – so mind what you say!'?
Innuendo
03. Sport; In 2014 Torvill and Dean returned to which city to perform their historic Olympic gold Bolero routine which they had performed there 30 years earlier?
Sarajevo
04. TV Comedy; First aired in the late 1970's which British satirical sketch series was the first major programme to showcase the talent of so-called 'alternative' comedy performers? (Including Mel Smith, Pamela Stephenson and Griff Rhys Jones)
Not The Nine O'clock News
05. Around The UK; Which town is generally associated with the finishing point for walks starting out in 'Land's End'?
John O'Groats
Quiz packs are supplied in a zip file with a 3 page PDF file (ideal for printing) and a copy in Word format (making it easy to make changes if needed).
Note: The rounds in this pack appear in 40 Question Quiz Packs 404, 405, 407, 412, 453