<! LETTER-LINK 01 !>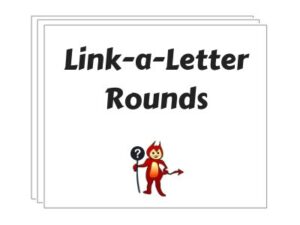 Link-a-Letter 01

Fifty Questions – Five Rounds
Five rounds of ten questions where the initial letters of each answer will spell a mystery name word or phrase. Use the optional clues to make the rounds easier, or turn into anagram rounds by asking questions in a random order.
The rounds in this pack spell:
Round 01. John Legend
Round 02. Mary J Blige
Round 03. Rubber Duck
Round 04. Metropolis
Round 05. Quadriceps
Optional Clues and first three questions from round one.
Name of a US singer, born in 1978. This person has won several Grammy's and has featured on a 2015 UK number one hit with Sam Smith, 'Lay Me Down'. Their first UK top ten was in 2005 with 'Ordinary People'
01. St Helier is the capital of which Channel Island?
Jersey
02. What specific name is given to a person aged between 80 and 89 years old?
Octogenarian
03. In athletics, what name is given to the track and field combined events contest made up of seven events?
Heptathlon
Initial letters of this full round will spell: John Legend
Quiz packs are supplied in a zip file with a 3 page PDF file (ideal for printing) and a copy in Word format (making it easy to make changes if needed).
Note: The rounds in this pack appear in 50 Question Quiz Packs 227 to 231