Quiz Pack 443

Forty Questions Over Four Rounds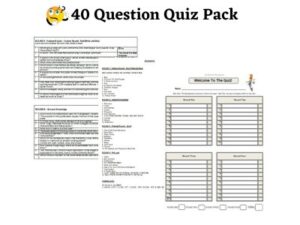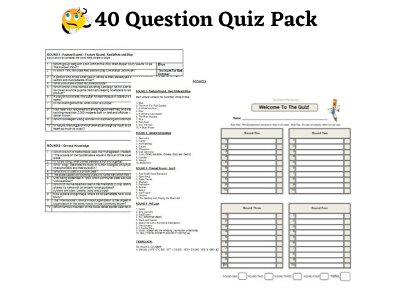 Round 1: Pyramid
• The first question has one answer, the second two, the third three and the fourth four, 1 point for each correct answer
Round 2: General Knowledge
Round 3: Connections
Each question is posed as a statement with two different definitions and/or clues, with both leading to the same answer
• For instance… A vodka based cocktail and the title of a woman's magazine? A kind of mushroom and a type of shellfish? The surnames shared by the cat-suit wearing character played by Diana Rigg in 'The Avengers' and the man after whom policemen are nicknamed 'bobbies'?
Round 4: Pot Luck
Includes a tiebreaker relevant to a question contained in the quiz
This Quiz Pack is supplied in a zip folder containing everything you need to run your quiz
Quick View – 40 Question Quiz Contents and Files
<! FORTY Question Download Details and Content!>

<! *****INSERT FOUR OTHER RANDOM DOWNLOADS***** !>
More Forty Question Quiz Packs
Feature Round: Ten to One, Theme Round: Around England
Feature Round: Blockbusters, Theme Round: At The Movies
Feature Round: A Bunch of Fives, Theme Round: Music
Feature Round: All About Animals, Theme Round: Sport