Weekly Pub Quiz 452

Ready Made 40 Question Quiz
Includes Everything You Need To Run A Fun Pub Quiz!
• Two-Page Questions and Answers
• Questions and Answers Separately (great if you want to have a go yourself!)
• Team Answer Sheet
• Quizmasters Score Sheet
---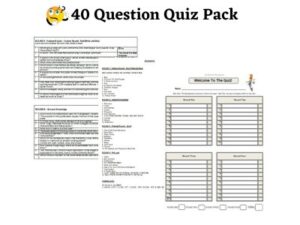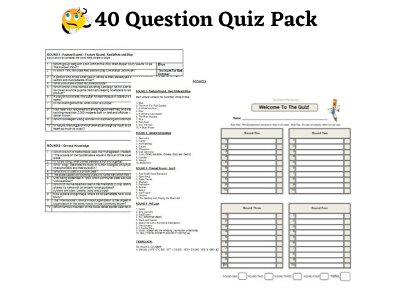 Four Rounds of 10 Questions
Round 1: Pyramid
• The first question has one answer, the second two, the third three and the fourth four, 1 point for each correct answer
Round 2: General Knowledge
• A selection of ten quality General Knowledge quiz questions
Round 3: Ten 'PM's'
• All answers in this round are famous names that all begin with the initials P and M
Round 4: Pot Luck• Finish off your quiz with a great range of Pot Luck questions
Sample Questions
• Two questions from Round 3 (Ten 'PM's') and two from Round 4 (Pot Luck)
1. Known for playing roles as a detective or secret agent, which actor went on to become a regular on ITV's 'Emmerdale', playing the role of Rodney Blackstock?
Patrick Mower
2. According to the titles of his numerous self-help books, who can make you confident, thin, rich, happy and smarter?
Paul McKenna
3. In which classic comedy series did the family members refer to their swimming pool as 'the cee-ment pond'?
The Beverly Hillbillies
4. In 2009 the final round of Premier League football fixtures for that year saw the first top division match in which neither side fielded an Englishman in their starting eleven – can you name either of the two teams involved?
Portsmouth / Arsenal (Arsenal won 1-4)
Includes a tiebreaker relevant to a question contained in the quiz
This Quiz Pack is supplied in a zip folder containing everything you need to run your quiz
Quick View – 40 Question Quiz Contents and Files
<! FORTY Question Download Details and Content!>

<! *****INSERT ADD A HANDOUT SHEET***** !>
Add a Quality Handout to your Quiz
<! *****INSERT FOUR OTHER RANDOM DOWNLOADS***** !>
More Forty Question Quiz Packs
Feature Round: Chain Letters, Theme Round: Ten to One
Feature Round: A Rum Round, Theme Round: A&B to S&T.
Feature Round: Multiple Choice, Theme Round: Science
Feature Round: A to J, Theme Round: TV and Film