Weekly Pub Quiz 410
Ready Made 40 Question Quiz
Includes Everything You Need To Run A Fun Pub Quiz!
• Two-Page Questions and Answers
• Questions and Answers Separately (great if you want to have a go yourself!)
• Team Answer Sheet
• Quizmasters Score Sheet
---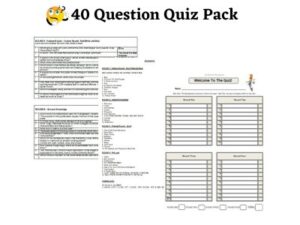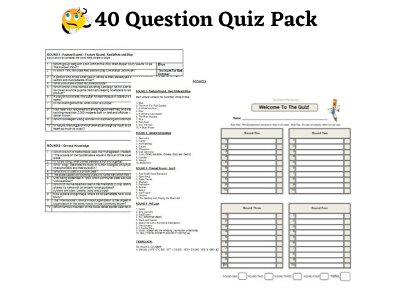 Four Rounds of 10 Questions
Round 1: Just Three Words
• Each question leads to a three-word answer
Round 2: General Knowledge
• A selection of ten quality General Knowledge quiz questions
Round 3: Music
• A great mix of music questions
Round 4: Pot Luck• Finish off your quiz with a great range of Pot Luck questions
Sample Questions
• Two questions from Round 1 (Just Three Words) and two from Round 3 (Music)
1. As featured in the Perishers comic strip, what breed of dog is Boot?
Old English Sheepdog
2. In advertising, Tina, Clarence, Archie, Maurice, Gordon, Gaffer and Sydney were collectively known as the…what?
Tetley Tea Folk
3. With a career spanning six decades, which singer songwriter was known by several nicknames during his life, ranging from 'Soul Brother Number One', to 'Mr Sex Machine' and most notably 'The Godfather of Soul'?
James Brown
4. Well-known for their Grammy award-winning song 'Love Will Keep Us Together', which couple divorced in 2014?
Captain and Tennille
Includes a tiebreaker relevant to a question contained in the quiz
This Quiz Pack is supplied in a zip folder containing everything you need to run your quiz
Quick View – 40 Question Quiz Contents and Files
<! FORTY Question Download Details and Content!>

<! *****INSERT ADD A HANDOUT SHEET***** !>
Add a Quality Handout to your Quiz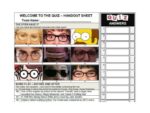 This mix includes; The Eyes Have It, Word Play and Order Order!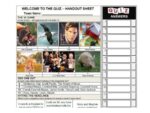 This mix includes; The 'A' Game, Odd One Out and Man in the Middle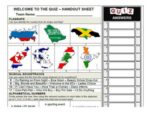 This mix includes; Flagmaps, Musicals and Mystery Years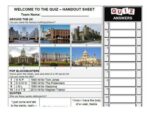 This mix includes; Buildings, Pop Blockbusters and Quotes
<! *****INSERT FOUR OTHER RANDOM DOWNLOADS***** !>
More Forty Question Quiz Packs
Feature Round: Begins with 'P', Theme Round: All answers are Song Titles
Feature Round: Multiple Choice, Theme Round: Science
Feature Round: Nicknames, Theme Round: Sport
Feature Round: Let's Hear It For The Girls, Theme Round: Around The World