Weekly Pub Quiz 416
Ready Made 40 Question Quiz
Includes Everything You Need To Run A Fun Pub Quiz!
• Two-Page Questions and Answers
• Questions and Answers Separately (great if you want to have a go yourself!)
• Team Answer Sheet
• Quizmasters Score Sheet
---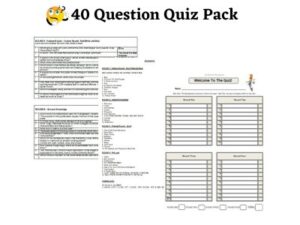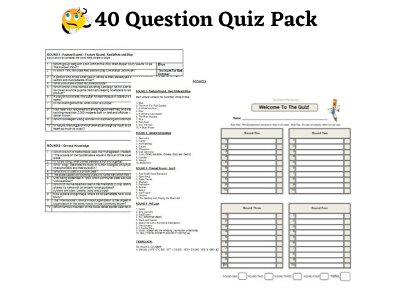 Four Rounds of 10 Questions
Round 1: 'I'll Have A 'P' Please!'
• In true Bob Holness blockbusters style – all questions have a one-word answer beginning with the letter 'P'
Round 2: General Knowledge
• A selection of ten quality General Knowledge quiz questions
Round 3: Song Titles
• Ten questions where each answer is also the title of a UK Chart hit. You can use as a link round or alternatively give the year of the hit and a bonus point for naming the artist/group
Round 4: Pot Luck• Finish off your quiz with a great range of Pot Luck questions
Sample Questions
• Two questions from Round 1 ('I'll Have a 'P' Please!) and two from Round 3 (Song Titles)
1. According to an old advertising campaign, which brand of soap was supposed to help 'keep that schoolgirl complexion'?
Palmolive
2. Which Hindi word is used in English as a slang term to describe something which is 'first class' or 'absolutely genuine'?
Pukka
3. (1986 hit) Which two-word phrase refers to a series of events in which each event causes the next one to happen?
Chain Reaction / Diana Ross
4. (2015 hit) 'Dreamy Fudge', 'Caramel Heart' and 'Raspberry Heaven' are all varieties of chocolate associated with which brand of boxed chocolates?
Black Magic / Little Mix
Includes a tiebreaker relevant to a question contained in the quiz
This Quiz Pack is supplied in a zip folder containing everything you need to run your quiz
Quick View – 40 Question Quiz Contents and Files
<! FORTY Question Download Details and Content!>

<! *****INSERT ADD A HANDOUT SHEET***** !>
Add a Quality Handout to your Quiz
Feature Round: Chain Letters, Theme Round: Ten to One
Feature Round: A Rum Round, Theme Round: A&B to S&T.
Feature Round: Multiple Choice, Theme Round: Science
Feature Round: A to J, Theme Round: TV and Film
<! *****INSERT FOUR OTHER RANDOM DOWNLOADS***** !>
More Forty Question Quiz Packs