Weekly Pub Quiz 428
Ready Made 40 Question Quiz
Includes Everything You Need To Run A Fun Pub Quiz!
• Two-Page Questions and Answers
• Questions and Answers Separately (great if you want to have a go yourself!)
• Team Answer Sheet
• Quizmasters Score Sheet
---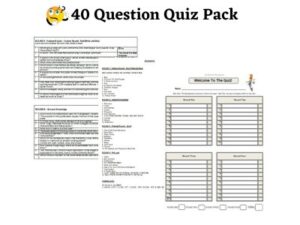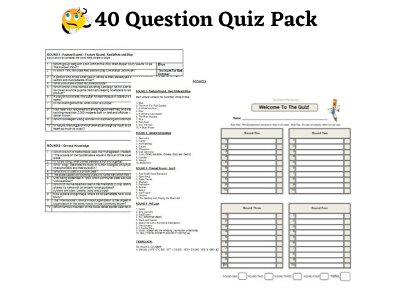 Four Rounds of 10 Questions
Round 1: Pyramid
• The first question has one answer, the second two, the third three and the fourth four, 1 point for each correct answer
Round 2: General Knowledge
• A selection of ten quality General Knowledge quiz questions
Round 3: Alliterative Answers
• Each question has a two-word answer, with each word in the answer beginning with the same letter of the alphabet.
Round 4: Pot Luck• Finish off your quiz with a great range of Pot Luck questions
Sample Questions
• Two questions from Round 2 (General Knowledge) and two from Round 3 (Alliterative Answers)
1. The so-called Cod Wars were a series of 20th century confrontations between the UK and which other country in disputes over fishing rights in the North Atlantic?
Iceland
2. Which branch of mathematics contains a theory where statements are evaluated to be either true or false, usually denoted by 1 and 0 respectively?
Algebra (Boolean)
3. Which 1980's hit for Bad Manners was adapted from the classical piece 'Orpheus in the Underworld'?
Can Can
4. Which eccentric billionaire was portrayed by Leonardo DiCaprio in the 2004 film 'The Aviator'?
Howard Hughes
Includes a tiebreaker relevant to a question contained in the quiz
This Quiz Pack is supplied in a zip folder containing everything you need to run your quiz
Quick View – 40 Question Quiz Contents and Files <! FORTY Question Download Details and Content!>

<! *****INSERT ADD A HANDOUT SHEET***** !>
Add a Quality Handout to your Quiz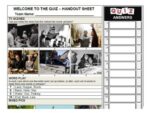 This mix includes; TV Behind The Scenes, Mixed Pics and Who's Next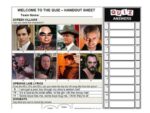 This mix includes; Screen Villains, Song Lyrics and Word Definitions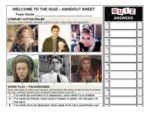 This mix includes; Literary Acting Roles, Dingbats and Pop Blockbusters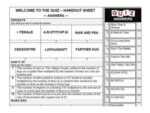 This mix includes; Dingbats, Sum It Up and Word Play
<! *****INSERT FOUR OTHER RANDOM DOWNLOADS***** !>
More Forty Question Quiz Packs