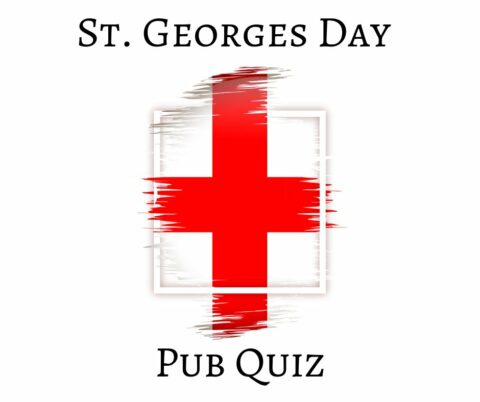 Saint George's Day Special
Complete Quiz Pack – Handout and Fifty Question Quiz. Contains everything you need to run your quiz including dedicated Team Answer Sheets.
Here are a few questions taken from this quiz, hover over each question to see the answers
1. For a point each, name the two singers who had top ten hits in 1975 and 1980 respectively with 'It's Been So Long' and 'Give Me The Night'

2. In 1983, who did US President Ronald Reagan describe as 'The Best Man In England'?

3. Between the years 1216 and 1553 there were 14 Kings of England who shared three different names; Henry was one, what were the others?

4 Which royal residence houses the St George's Chapel?

5. Composed by Hubert Parry and set to words by William Blake, which popular song
is often put forward to replace 'God Save The Queen' as England's national
anthem?
6. If Hitler's invasion of England had been successful, which seaside town had he
planned to use as his 'personal playground'?
a) Brighton b) Blackpool c) Bournemouth

Special Offer – Buy the Complete Quiz and receive this George & Dragon Handout for Free. Features eight famous Dragons and eight famous George's. Available separately for £1.20

Complete Quiz + Free George & Dragon Handout

Handout Only

Fifty Question Quiz Only
Quiz Pack Details
Handout Sheet Pack
A mix of twenty pictures, puzzles and trivia.
Around England
There are 8 random clues to 8 different counties, and the aim is to match the county to the relevant number on the adjacent map of England
By George!
This section is split into TV, Film and Music
– First there are four actors called George to identify along with the character they are playing
– Next there are two 'George' singers to name, along with song titles from the lyrics given
– Rounding off this section are four film characters, this time the characters are called George and the aim is to name their character and the film in which they appear
Bits n' Bobs
There is a famous Shakespeare quote and an anagram of a famous author
Fifty Question Quiz Pack
Rounds two and five have 5 questions, all other rounds have 10 questions.
Round One: Link-a-Letter
The initial letters of each answer will spell the name of an English cathedral city
Round Two: George Who
Five famous George's to name
Round Three: General Knowledge and Pot Luck
A straightforward selection of ten general knowledge and pot luck questions
Round Four: All About George
The name 'George' will be either in the question or the answer
Round Five: Multiple Choice
Five questions, each with a choice of three answers which are already pre-printed on the team answer sheet
Round Six: The Final Countdown
Rounding off the quiz with another great selection of ten general knowledge and pot luck questions
Tiebreakers
There are two tiebreakers, both relevant to questions used in the main quiz
Quiz Pack Files
The Handout Sheet comes with two PDF files ready to print – one with the answers, one without.
The Fifty Question Quiz includes a Team Answer Sheet and a handy Score-sheet. The quiz questions are supplied in two different layouts;
-First, if you want to print and save paper, there is a two-page file, with three rounds on each page.
-Alternatively there is a multi-page option which is more suited to reading from a pc/tablet, or to print leaving yourself room for notes.
-Both layouts also have a copy with the answers removed, meaning you can have a go yourself, and also avoid anyone peeking over your shoulder checking for the answers!
All files are in PDF ready to print and are also supplied in word doc format allowing you to tweak the questions if needed.

Purchase Details
Payments are made securely through PayPal. Use the 'add to cart' link to carry on browsing and checkout when ready, alternatively hit the 'buy now' button to take you straight to PayPal. Once payment has processed you will be directed back to this site where you find link/s to a zip file containing your quiz files. You will also be sent link/s in a confirmation email.