<! LETTER-LINK 02 !>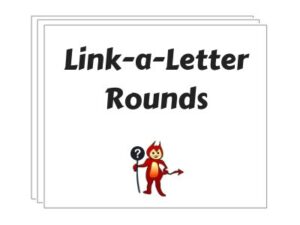 Link-a-Letter 02

Fifty Questions – Five Rounds
Five rounds of ten questions where the initial letters of each answer will spell a mystery name word or phrase. Use the optional clues to make the rounds easier, or turn into anagram rounds by asking questions in a random order.
The rounds in this pack spell:
Round 01. Madagascar
Round 02. Copenhagen
Round 03. Ivana Trump
Round 04. Buckingham
Round 05. Twickenham
Optional Clues and first three questions from round one.
A large island nation off the southeast coast of Africa, home to thousands of animal species. Shares its name with a series of films, computer-animated movies that feature the characters Alex, Marty, Melman and Gloria
01. In Shakespeare's 'Julius Caesar' who delivers the famous 'Friends, Romans, Countrymen' speech?
Mark Anthony
02. Which ancient Greek story-teller is best known for his collection of fables?
Aesop
03. Which products name is derived from the words Durability, Reliability and Excellence?
Durex
Initial letters of this full round will spell: Madagascar
Quiz packs are supplied in a zip file with a 3 page PDF file (ideal for printing) and a copy in Word format (making it easy to make changes if needed).
Note: The rounds in this pack appear in 50 Question Quiz Packs 232, 235, 279, 280, 282
<! *****INSERT FOUR OTHER RANDOM QUESTION ROUND PACK DOWNLOADS***** !>
More Question Round Packs