< Previous Complete Quiz 332 | Complete Quiz 333 | Next Complete Quiz 334 >
Complete Ready-Made Quiz 333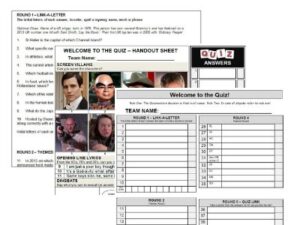 This Ready-Made Weekly quiz features a Handout Sheet and a Fifty Question Quiz
Handout Sheet Pack
A mix of twenty pictures, puzzles and trivia.
Screen Villains
Eight fictional TV & Film villains to name
Opening Line Lyrics
From the 60's, 70s and 80's, three sets of lyrics from well-known UK hits
Dingbats
Say what you see to reveal three phrases
Definitions
Three single words to name, each of them having at least two different definitions
Bits 'n' Bobs
Spell it right – TV Tagline – Anagram of a dog breed
Fifty Question Quiz Pack
Rounds two and five have 5 questions, all other rounds have 10 questions.
Round One: Link-a-Letter
The initial letters of each answer will spell the name of a famous poet
Round Two: Decades
Five facts/events where the aim is to name the decade in which they occurred
Round Three: General Knowledge and Pot Luck
A straightforward selection of ten general knowledge and pot luck questions
Round Four: Blockbusters
The initial letters of each answer are printed on the team answer sheet for this round
Round Five: Quiz Link
In this round teams need to take a word or words contained in four answers and identify the common link
Round Six: The Final Countdown
Rounding off the quiz with another great selection of ten general knowledge and pot luck questions
Tiebreakers
There are two tiebreakers, both relevant to questions used in the main quiz
Quiz Pack Details
The Handout Sheet comes with two PDF files ready to print – one with the answers, one without.
The Fifty Question Quiz includes a Team Answer Sheet and a handy Score-sheet. The quiz questions are supplied in two different layouts;
-First, if you want to print and save paper, there is a two-page file, with three rounds on each page.
-Alternatively there is a multi-page option which is more suited to reading from a pc/tablet, or to print leaving yourself room for notes.
-Both layouts also have a copy with the answers removed, meaning you can have a go yourself, and also avoid anyone peeking over your shoulder checking for the answers!
All files are in PDF ready to print and are also supplied in word doc format allowing you to tweak the questions if needed.

Purchase Details
Payments are made securely through PayPal. Use the 'add to cart' link to carry on browsing and checkout when ready, alternatively hit the 'buy now' button to take you straight to PayPal. Once payment has processed you will be directed back to this site where you find link/s to a zip file containing your quiz files. You will also be sent link/s in a confirmation email.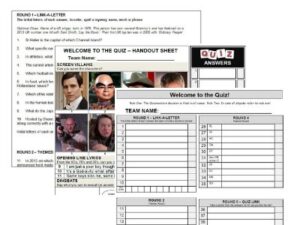 Complete Quiz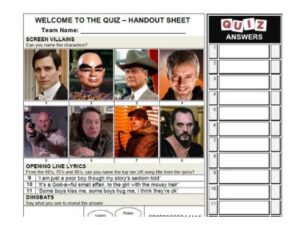 Handout Only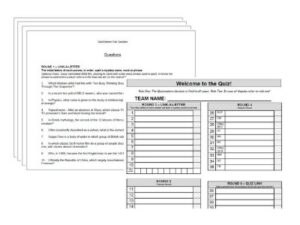 Fifty Question Quiz Only
< Previous Complete Quiz 332 | Complete Quiz 333 | Next Complete Quiz 334 >