| Free Complete Quiz | Next Complete Quiz 227 >
Ready-Made Complete Quiz – Free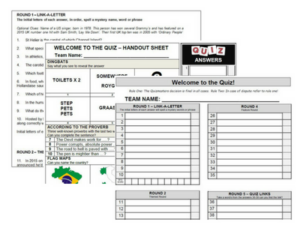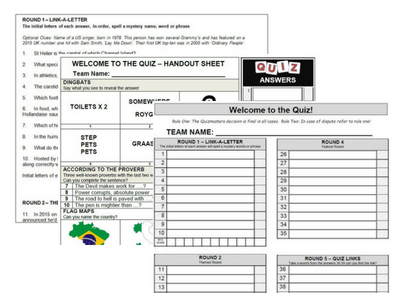 This Ready-Made Weekly quiz features a Handout Sheet and a Fifty Question Quiz
Handout Sheet Pack
A mix of twenty pictures, puzzles and trivia.
Dingbats
Six Dingbats to solve. New to dingbats? – they are puzzles to work out based on the layout of words, letters or numbers etc, here are a couple of examples
PO MUM LICE Ans= Mother in law
STEP PETS PETS Ans= One Step Forward, Two Steps Back
Proverbs
Three well-known proverbs with the last two words missing – can teams complete the sentence?
Flagmaps
Three countries to name from the outlines filled with their flags
Word Play – Definitions
Four questions where there are two separate definitions, both leading to the same word
Bits 'n' Bobs
A classic movie to name from its tagline – A brainteaser to work out – An anagram to unravel
Fifty Question Quiz Pack
Rounds two and five have 5 questions, all other rounds have 10 questions.
Round One: Link-a-Letter
The initial letters of each answer will spell the name of a famous person
Round Two: Compass Points
Each answer in this round contains the words north, south, east or west
Round Three: General Knowledge and Pot Luck
A straightforward selection of ten general knowledge and pot luck questions
Round Four: Chain Letters
A round of ten questions where the second question onward begins with the last letter of the previous answer
Round Five: Quiz Link
In this round teams need to take a word or words contained in four answers and identify the common link
Round Six: The Final Countdown
Rounding off the quiz with another great selection of ten general knowledge and pot luck questions
Tiebreakers
There are two tiebreakers, both relevant to questions used in the main quiz
Quiz Pack Details
The Handout Sheet comes with two PDF files ready to print – one with the answers, one without.
The Fifty Question Quiz includes a Team Answer Sheet and a handy Score-sheet. The quiz questions are supplied in two different layouts;
-First, if you want to print and save paper, there is a two-page file, with three rounds on each page.
-Alternatively there is a multi-page option which is more suited to reading from a pc/tablet, or to print leaving yourself room for notes.
-Both layouts also have a copy with the answers removed, meaning you can have a go yourself, and also avoid anyone peeking over your shoulder checking for the answers!
All files are in PDF ready to print and are also supplied in word doc format allowing you to tweak the questions if needed.
Note: Handout and Question Packs are available separately here: Handout Sheets, Fifty Question Quiz Packs
Download Details
To carry on browsing use the 'add to cart' link and checkout when ready.
Alternatively you can start the download immediately by hitting the 'download now' link

| Free Complete Quiz | Next Complete Quiz 227 >