< Previous Handout 325 | Handout 326 | Next Handout 327 >
Handout Sheet 326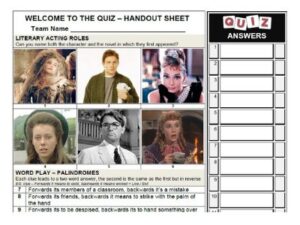 Handout Sheet
A mix of twenty pictures, puzzles and trivia.
Literary Acting Roles
Six well-known actors playing fictional characters, a point for the character and one for the novel in which they appeared
Word Play
Three questions with clues leading to a two-word answer, the second being the same as the first but in reverse.
e.g. Forwards it means to exist, backwards it means wicked = Live/Evil
Dingbats
Four Dingbats to solve. New to dingbats? – they are puzzles to work out based on the layout of words, letters or numbers etc, here are a couple of examples:
PO MUM LICE Ans = Mother in law
STEP PETS PETS Ans = One Step Forward, Two Steps Back
Number One Pop Blockbusters
A year is given of a UK number one hit, along with the initial letters of both the artist and song title, the aim is to name them both.
e.g.1983 – BJ had a hit with UG = Billy Joel / Uptown Girl
Bits 'n' Bobs
Name a film from its description – A comic character to identify – Cryptic clue to a holiday island

Handout Pack Details
Each quiz pack comes with two PDF files ready to print – one with the answers, one without. Files are also supplied in word doc format allowing you to easily tweak the handout if needed.
Note: This handout sheet forms part of Complete Quiz 326
Purchase Details
Payments are made securely through PayPal. Use the 'add to cart' link to carry on browsing and checkout when ready, alternatively hit the 'buy now' button to take you straight to PayPal. Once payment has processed you will be directed back to this site where you find link/s to a zip file containing your quiz files. You will also be sent link/s in a confirmation email.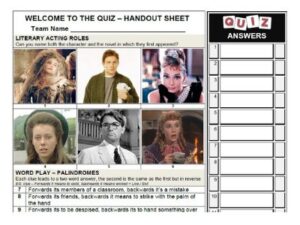 < Previous Handout 325 | Handout 326 | Next Handout 327 >