Weekly Pub Quiz 446
Ready Made 40 Question Quiz
Includes Everything You Need To Run A Fun Pub Quiz!
• Two-Page Questions and Answers
• Questions and Answers Separately (great if you want to have a go yourself!)
• Team Answer Sheet
• Quizmasters Score Sheet
---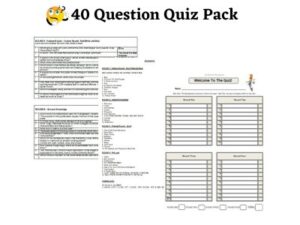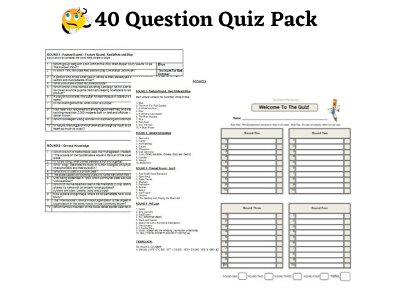 Four Rounds of 10 Questions
Round 1: Link-a-Letter
• The initial letters of each answer, in order, will spell the name of a fictional school from film
Clues are provided so you can make this round easier by reading out some or all of these…
On the other hand you can make the round a little harder by simply reading out the questions in a random order to create an 'Anagram Round'
Round 2: General Knowledge
• A selection of ten quality General Knowledge quiz questions
Round 3: Numbers
• Each answer is, or contains, a number
Round 4: Pot Luck• Finish off your quiz with a great range of Pot Luck questions
Sample Questions
• Two questions from Round 3 (Numbers) and two from Round 4 (Pot Luck)
1. Which popular group from the 1990's took their name from the postcode of their hometown (Walthamstow)?
East 17
2. In athletics which distance race is the longest where starting blocks are used?
400 Metres
3. Which now annual event was first held in 1977, where among the winners were Shirley Bassey, Procol Harem and The Beatles?
The Brit Awards
4. The words 'subcontinental', 'unnoticeably' and 'uncomplimentary' are all common in that they have the 'what' running in reverse order?
Vowels
Includes a tiebreaker relevant to a question contained in the quiz
This Quiz Pack is supplied in a zip folder containing everything you need to run your quiz
Quick View – 40 Question Quiz Contents and Files
<! FORTY Question Download Details and Content!>

<! *****INSERT ADD A HANDOUT SHEET***** !>
Add a Quality Handout to your Quiz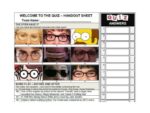 This mix includes; The Eyes Have It, Word Play and Order Order!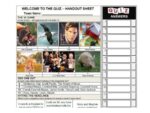 This mix includes; The 'A' Game, Odd One Out and Man in the Middle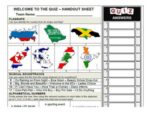 This mix includes; Flagmaps, Musicals and Mystery Years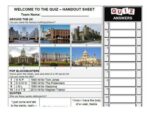 This mix includes; Buildings, Pop Blockbusters and Quotes
<! *****INSERT FOUR OTHER RANDOM DOWNLOADS***** !>
More Forty Question Quiz Packs
Feature Round: According to the Lyrics, Theme Round: A Bunch of Fives
Feature Round: Tom Dick and Harry, Theme Round: Alliterative Answers
Feature Round: Just Three Words, Theme Round: Music
Feature Round: Red White and Blue, Theme Round: Sport