Weekly Pub Quiz 435
Ready Made 40 Question Quiz
Includes Everything You Need To Run A Fun Pub Quiz!
• Two-Page Questions and Answers
• Questions and Answers Separately (great if you want to have a go yourself!)
• Team Answer Sheet
• Quizmasters Score Sheet
---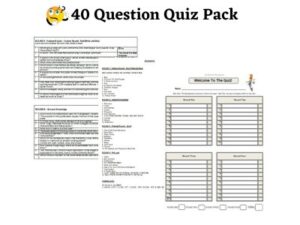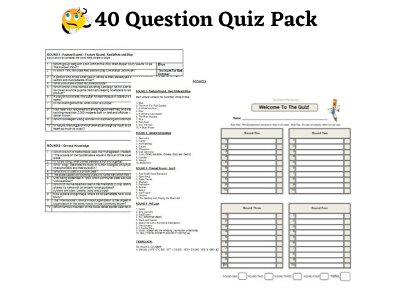 Four Rounds of 10 Questions
Round 1: Blockbusters
• The initial letters of each answer are pre-printed on the team answer sheet that is supplied with this quiz
Round 2: General Knowledge
• A selection of ten quality General Knowledge quiz questions
Round 3: All at 'C'
• Each question leads to a one or two-word answer, with each word beginning with the letter 'C'
Round 4: Pot Luck• Finish off your quiz with a great range of Pot Luck questions
Sample Questions
• Two questions from Round 1 (Blockbusters) and two from Round 3 (All at 'C')
1. (The) BOB – Known for its rough seas and violent storms, which body of water is bounded by the west coast of France and the north coast of Spain?
(The) Bay of Biscay
2. OC – First shown in 2008 (and hosted by Victoria Coren Mitchell) which BBC quiz show sees teams competing to find links between seemingly unrelated clues?
Only Connect
3. In an attempt to embark on a music career which well-known model released a single in 1999 entitled 'Oh Yeah'?
Caprice
(Reached number 24, as did her follow-up single in 2001 'Once Around The Sun')
4. Created by Hanna-Barbera, which cartoon hero has superhuman strength, keeps live dinosaurs in his fur, and carries a club which enables him to fly?
Captain Caveman
Includes a tiebreaker relevant to a question contained in the quiz
This Quiz Pack is supplied in a zip folder containing everything you need to run your quiz
Quick View – 40 Question Quiz Contents and Files <! FORTY Question Download Details and Content!>

<! *****INSERT ADD A HANDOUT SHEET***** !>
Add a Quality Handout to your Quiz
<! *****INSERT FOUR OTHER RANDOM DOWNLOADS***** !>
More Forty Question Quiz Packs
Feature Round: Ten to One, Theme Round: Around England
Feature Round: Body Talk, Theme Round: Surnames as Fist Names
Feature Round: A Rum Round, Theme Round: A&B to S&T.
Feature Round: Just Three Words, Theme Round: Music