You Are Here: Home » Free Downloads and Questions » Quiz-Link Free Questions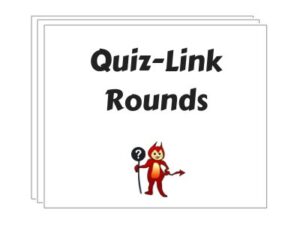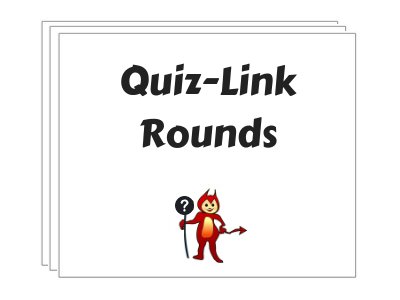 Free Quiz Downloads and Questions (Quiz-Links)
Go To Free Downloads and Questions Main Page
Quiz-Link Rounds

Each Pack Has Fifty Questions Over Ten Rounds
Also known as connections, these popular quiz rounds involve taking a word, or words contained in four answers and then working out what the link is between them.
This page has a full sample round plus three questions from each of the Quiz-Link packs available.
---
<! QUIZ-LINK ROUND FULL SAMPLE ROUND !>
Quiz-Link – Full Sample Round
01. Which 1989 film featured Rick Moranis as a wacky inventor who created trouble for his and his neighbours children?
Honey I Shrunk The Kids
02. What name is given to a pilot-less radio controlled aircraft?
Drone
03. Who had a UK chart hit in 1990 with a song about Quentin Crisp entitled 'An Englishman in New York'?
Sting
04. Which character from Lewis Carroll's Alice in Wonderland is often heard saying the phrase 'Off with his head!'?
The Queen of Hearts
05. The Link?
The Link in the Sample Quiz is: Bees
Link Words; Honey, Drone, Sting, Queen
<! QUIZ-LINK ROUND PACK 01 !>
---
Quiz-Link Pack 01
View Full Info (Link will open in new tab)
Sample Questions
01. In the world of comedy, Thomas Derbyshire and Robert Harper are more commonly referred to by what name?
Cannon and Ball
02. Which popular song contains the names 'Jenny Diver', 'Sukey Tawdry', 'Lotte Lenya' and 'Lucy Brown'?
Mack The Knife
03. The statue of justice which stands on top of the Old Bailey has her arms outstretched holding aloft which two items?
Scales and Sword
The Link for this round is: Types of Weapons
Link Words; Cannon, Knife, Sword
<! QUIZ-LINK ROUND PACK 02 !>
---
Quiz-Link Pack 02
View Full Info (Link will open in new tab)
Sample Questions
01. (Best known for his role of 'Trigger' in 'Only Fools and Horses'), which actor played the role of Owen Newitt in 'The Vicar of Dibley'?
Roger Lloyd Pack
02. In 1994, who became the first batsman to score 500 runs in first class cricket when he scored 501 for Warwickshire against Durham?
Brian Lara
03. Who fronted the popular 1960's group 'The Dreamers'?
Freddie (Garrity)
The Link for this round is: The Pop Group Queen
Link Words; Roger, Brian, Freddie
(Roger Taylor, Brian May, Freddie Mercury)
---