Handout Sheet 247 – St Patrick's Day Special

Famously Irish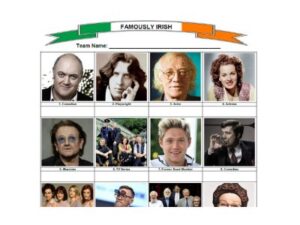 A mix of sixteen famous Irish people.
• Includes famous names from the past and present, such as comedian Dara O'Briain, actor Richard Harris and playwright Oscar Wilde.

• Also included are fictional characters, plus names from the worlds of music and sport.
This Handout is supplied in a zip file containing two files, one with the answers and a copy without. Files are supplied in both PDF (ideal for printing) and word format (making it easy to make changes if needed.)
Note: This Quiz forms part of Complete Quiz 247 – St Patrick's Day Special
*This Quiz Pack first published March 2019 and updated March 2022.