You Are Here: Home » Themed Quiz Packs » St George's Day
St George's Day Quiz Packs
Celebrate St. George's Day with a Pub Quiz
Quiz Pack 2– George & Dragons Handout
Eight dragons to name along with the tv/film in which they appear, plus with eight well-known 'Georges'. Dragons include Mushu from Mulan, Smaug from The Hobbit and Toruk Makto from Avator.
Surnames of the famous 'George's' include Hamilton, Lamb, Foreman and Segal.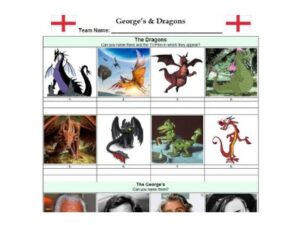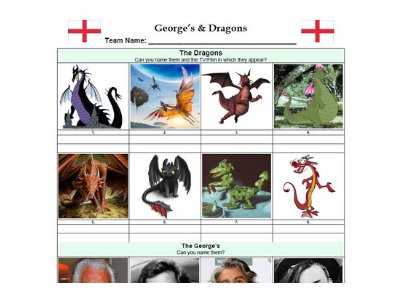 Note: First published April 2019. This pack is FREE when purchased with the full quiz in Quiz Pack 1.
Quiz Pack 1 – This pack features a Handout and Fifty Question Quiz and has everything you need to run a Pub Quiz including dedicated Team Answer Sheets.
***Purchase the Full Quiz Pack and receive the George & Dragons Handout for FREE***
VIEW QUIZ DETAILS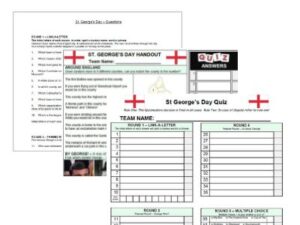 The Full Quiz – This pack includes both the Handout and the Fifty Question Quiz + FREE George & Dragon Handout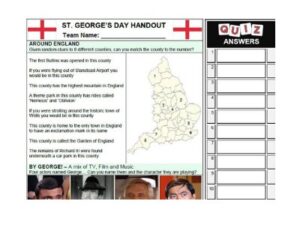 Handout Only – Includes Counties of England and Famous George's from TV, Film and Music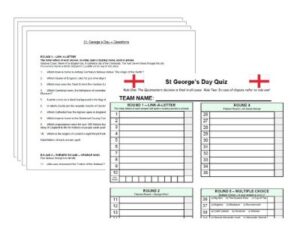 Fifty Question Quiz Only – Six rounds of questions, includes the feature rounds 'George Who?' and 'Multiple Choice'
Note: First published April 2019