< Previous Handout 322 | Handout 323 | Next Handout 324 >
Handout Sheet 323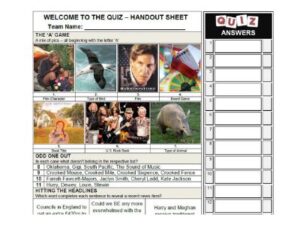 Handout Sheet
A mix of twenty pictures, puzzles and trivia.
The 'A' Game
A mix of pics – all beginning with the letter 'A'
Odd One Out
Four lists, each with something that doesn't belong with the others
Sporting Equipment
Three pieces of sporting equipment to name from their descriptions
Man in the Middle
First answer the two clues then take the surname of the first person and combine it with the first name of the second to reveal a mystery 'middle-man'.
e.g. 'Fill Me In' Singer and Princess Fiona's Voice in Shrek = (Craig) David Cameron (Diaz)
Bits 'n' Bobs
Anagram of a Beatles song – Song Lyrics from a 1980 hit – Dingbat, similar to catchphrases, say what you see to reveal the answer

Handout Pack Details
Each quiz pack comes with two PDF files ready to print – one with the answers, one without. Files are also supplied in word doc format allowing you to easily tweak the handout if needed.
Note: This handout sheet forms part of Complete Quiz 323
Purchase Details
Payments are made securely through PayPal. Use the 'add to cart' link to carry on browsing and checkout when ready, alternatively hit the 'buy now' button to take you straight to PayPal. Once payment has processed you will be directed back to this site where you find link/s to a zip file containing your quiz files. You will also be sent link/s in a confirmation email.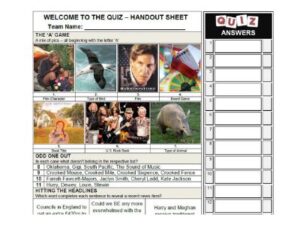 < Previous Handout 322 | Handout 323 | Next Handout 324 >