< Previous Handout 324 | Handout 325 | Next Handout 326 >
Handout Sheet 325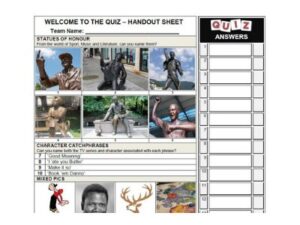 Handout Sheet
A mix of twenty pictures, puzzles and trivia.
Statues of Honour
From the world of Sport, Music and Literature, six famous statues to identify
Character Catchphrases
Four catchphrases where the aim is to name both the TV series and the character associated with each phrase
Mixed Pics
Animated character – Actor – Drinks Logo – Board game
According To The Lyrics
Three song titles are revealed by finishing each line of lyrics
Bits 'n' Bobs
Movie tagline – Dingbat, similar to a catchphrase, say what you see to reveal the answer – Chess notation

Handout Pack Details
Each quiz pack comes with two PDF files ready to print – one with the answers, one without. Files are also supplied in word doc format allowing you to easily tweak the handout if needed.
Note: This handout sheet forms part of Complete Quiz 325
Purchase Details
Payments are made securely through PayPal. Use the 'add to cart' link to carry on browsing and checkout when ready, alternatively hit the 'buy now' button to take you straight to PayPal. Once payment has processed you will be directed back to this site where you find link/s to a zip file containing your quiz files. You will also be sent link/s in a confirmation email.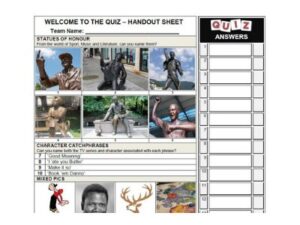 < Previous Handout 324 | Handout 325 | Next Handout 326 >